Site Map & Campground Rules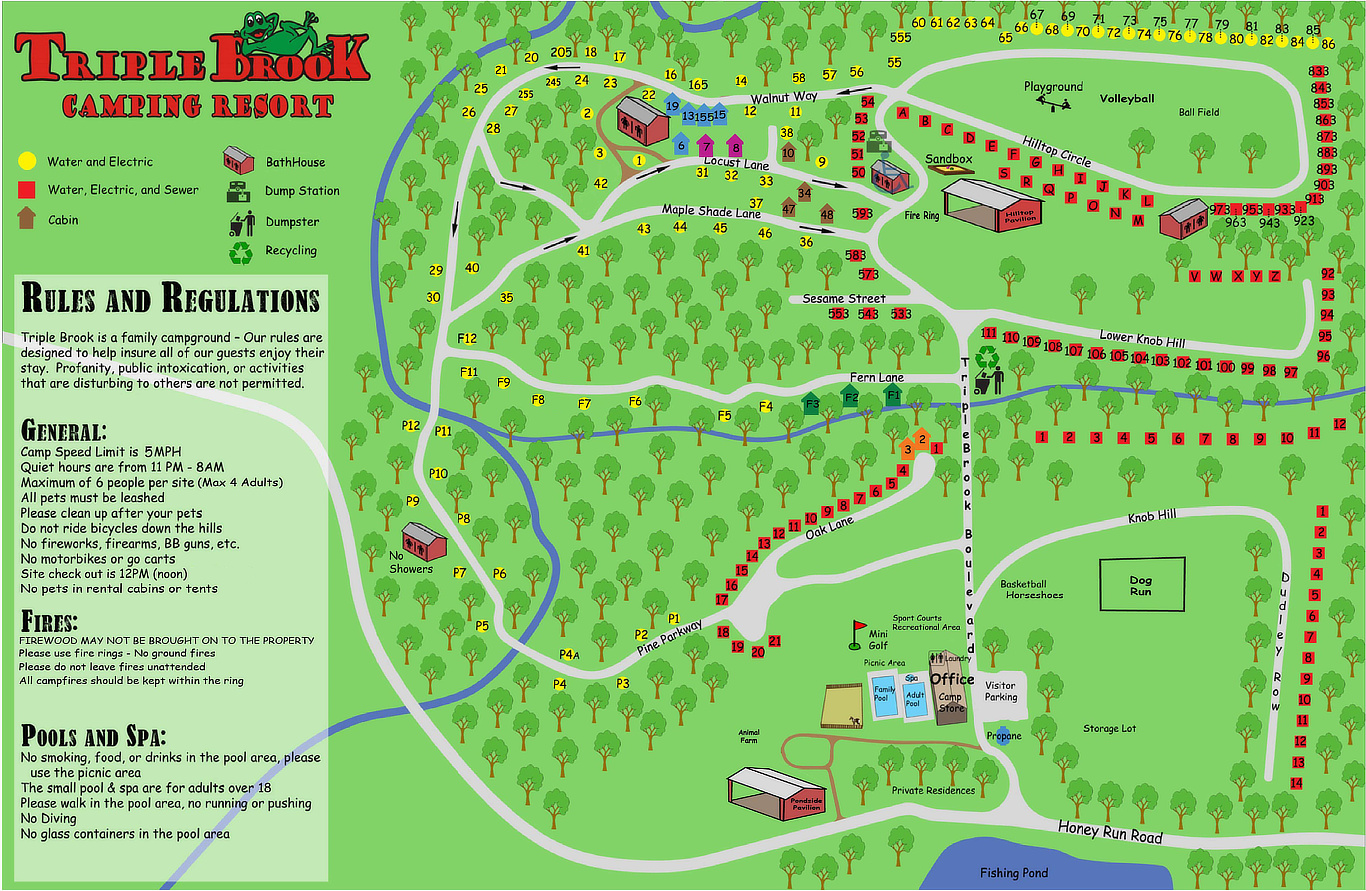 Click to download a larger map.
TripleBrook is a family owned campground and reserves the right to evict without prior notice anyone who creates a disturbance or nuisance, deliberately breaks any of our campground rules or creates an unsafe condition. Please observe all posted signs and placards. Many of these rules are enforced by the State of NJ or the Department of Environmental Protection. Any person using profane language, publically intoxicated or acting in a manner that is injurious to others will be asked to leave the campground.
No Refund of fees paid will be made in event of such an action.
General Rules:
Quiet Hours are observed from 11 PM to 8 AM please respect your neighbors and turn off lights and music.
The Campground Speed Limit is 5 mph or less, unlicensed drivers are prohibited.
It is unlawful to cut, injure, or mutilate any plant, tree or shrub on TripleBrook Property. Do not put nails, hooks or screws into any trees.
Pets are welcome with restrictions – see below

There is A maximum number of 6 (six) people per site .

All vehicles must be registered and must display a valid registration tag.
One car per site in woods please, additional vehicles must be parked in a parking area.
All Sewer waste (black and grey) must be disposed of at a sewer connection.
If you move a picnic table please return it to the site where you found it.
No motor bikes, fireworks, firearms, bow & arrows, BB guns, air guns or chain saws permitted.
As a courtesy to your fellow guests and campers, please go around other people's campsites and gardens,
Show respect to our neighbors by not crossing property fence lines, the neighbors have electrified their fence.
Check out time from the campground is 12 Noon.
Triplebrook is not responsible for fire, theft, or damage to any trailer, car, or personal property.
Fires:
DO NOT BRING FIREWOOD ON TO TRIPLEBROOK PROPERTY – Anyone transporting wood will be asked to leave the wood off of the property.
Please confine your fire to the fire ring provided, Do not move the rings or use them as chopping blocks.
All fires must be under control at all times. NO bonfires or ground fires
Never leave fires unattended. Extinguish fires when you go to sleep and upon departure.
Observe all posted placards and low / no fire warnings
Animal Farm:
Farm animals are here for your viewing pleasure. For your safety and theirs, please do not touch or harass the animals, throw objects at or chase animals, climb fences or enter pens.
Our animals are all on special diets, please DO NOT feed them anything, we don't want to make them sick.
Pet Policy:
To help facilitate the enjoyment of all of our guests we only allow two campground friendly pets per campsite and request that you read and follow these pet friendly rules.
Visitors of guests MAY NOT bring pets.
Campers in tents or cabin rentals

MAY NOT

bring pets.
Pets must be kept under control of their owners at all times. All pets must be on leashes or chains no longer than 6 feet.
Please exercise your pet in our designated area. For the safety and enjoyment of all, pets are not allowed in the common areas, including the following:
Playground, Camp Store, Pavilion, Pool Area, Bath Houses, Animal Farm
Pets may NEVER be left unattended.
Always clean up after your pet and dispose of the waste properly.
For the safety and enjoyment of all, aggressive pets should be left at home.
Any pets that show signs of aggression must be removed immediately.
Campers whose pet barks incessantly or disturb other campers will be asked to take their pet home.
Campers in tents or cabin rentals MAY NOT bring pets.
All campers with pets MUST provide proof of current inoculations, including rabies. (A copy of which will be kept on file at TripleBrook Campground.
Pool Rules: For the safety and enjoyment of all
Adult pool is for 18 and over only – no exceptions.
No Smoking (including vaping), food, drinks, or gum allowed inside the pool or spa area fences or in picnic areas.
PLEASE WALK ­ no running, pushing or horseplay within the pool area.
No Jumping over other swimmers into the pool.
While in the water, "non swimming" children must be within an arm's reach of a responsible adult who must also be in the water (no sitting on the edge of the pool.)
No rafts or tubes are allowed in either pool without prior approval
Swimmies and baby tubes are allowed in the shallow end of the family pool only.
Children under 16 must be accompanied by a responsible adult (21 or over)
Proper swimming attire must be worn (no cut-offs, T-shirts, or street clothing).
No recreational equipment or toys are allowed in the pool without prior approval.
All swimmers must shower prior to entering the pool.
Only one person allowed on the slide at a time. You must slide feet first.
No diving.
All supervisor decisions are final. Individuals who do not abide by the rules and regulations will be asked to sit out of the pool area, repeat violators will be asked to leave.
Spa Rules:
No one under the age of 18 is allowed in the spa.
No food or drink allowed in spa at any time.
Use of the spa while under the influence of alcohol, drugs or medicines is hazardous and not allowed.
Pregnant women and persons suffering from high or low blood pressure, heart disease or diabetes should not enter the spa.
Persons with skin, ear, genital or other body infections must not use the spa.
Proper swimming attire must be worn.
Do not use the spa alone.
Observe a reasonable time limit. Then shower, cool down, and if you wish, return for another brief stay. Long exposure may result in nausea, dizziness or fainting.
MAXIMUM TIME LIMIT: 15 minutes.
Lake Rules:
Persons under the age of 16 must be accompanied by an adult.
Please return all fish, frogs & other pond life to the water unharmed. Use barbless hooks.
No glass containers at the lake please.
The lake and lake front are closed at dark.
PLEASE OBEY THESE, THE SAFETY RULES POSTED AT THE ENTRANCE AND ALL DIRECTIONS OF CAMPGROUND STAFF.